January 20, 2011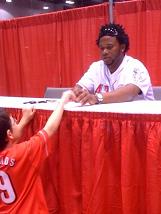 The Cincinnati Reds have avoided arbitration with right-hander Johnny Cueto by signing him to a four-year, $27 million contract. This deal will take care of Cueto's contract situation for all of his arbitration years plus one year of free agency.
It's the deal that we wanted for Joey Votto, though I'm pretty darn happy to have it for Cueto as well.
Maybe the most surprising part of all is that it is announced on Reds.com the same day that it appeared in other news media:
Cueto and the Reds have reached agreement on a four-year, $27 million contract extension, according to a report on ESPNDeportes.com on Thursday night. The Reds did not immediately confirm the report, which said the agreement is pending a physical examination.
It's an exciting time for the team. They've been growing these players for ever-so-long, and now we're getting to enjoy the fruits of their labor as all these pieces come together at the same time. Could be a helluva year.