January 7, 2011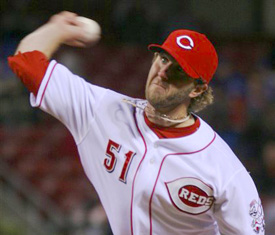 Yesterday, at about the same time as news came out about the Reds signing veteran shortstop Edgar Renteria, the Cincinnati Reds also announced that they'd signed reliever Jared Burton to a contract and avoided arbitration.
This is the second player that the Reds have signed before the arbitration hearings, with Jay Bruce being the first. His long-term deal insures Bruce will never have to deal with arbitration.
The Reds have 4 remaining players facing arbitration. This includes Bill Bray, Johnny Cueto, Edinson Volquez, and Joey Votto. Considering that the last Reds player to reach the hearing stage was way back in 2004–Chris Reitsma, who the Reds destroyed in the hearing–I have a feeling that Cincinnati will avoid arbitration with everyone.