January 27, 2011
The Cincinnati Reds have signed a handful of players to long-term contracts this off-season, placing a bet on the future of the franchise. Along with that bet comes the need for fans to buy tickets and come to the games.
Yesterday, during a press conference formally announcing Johnny Cueto's long-term deal, general manager Walt Jocketty had this to say on the subject.
"At some point, when Johnny gets beyond this contract and (Joey) Votto and some of the other guys, we're not sure we'll be in position to sign these guys again," Jocketty said. "It just depends on the revenues we'll be able to generate in the coming years. If we continue to win, I think we will. Our attendance will improve, our revenues will improve and we'll be in great shape to try and re-sign these guys."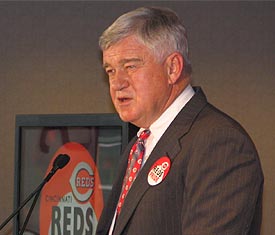 Then today at the Reds Caravan launch, owner Bob Castellini commented on the same ticket sales.
"They have to be up to sign these guys like we did," he said. "We've got to sell more season tickets, all the way down to single tickets. Everyone understands that in our organization. They're all trying to make that happen."
Ticket sales are up. Just one year of winning and off-season ticket sales are up by 10 percent. That's not enough, but it's a good start. Apparently, the Reds are smart enough to know that one good year isn't enough to get all the fans back. I would imagine a lot of them are understandably wary.
"It takes a year or two after you start winning," Bob Castellini said. "Last year was our first year. We're on target. We feel like we know what to expect. We're going to have good season this year all around — with ticket sales and on the field."
I hope it works. The expanded selection of season ticket packages certainly makes it affordable to more people. Taking a cue from the Indianapolis Indians, the Reds this year are offering a 20-game Flex pack. It's great for those further away from Cincinnati who don't always know in advance how many tickets or even which games they'll attend. Take 2 people to one game, or 5 to another. It's flexible and cheaper than per game tickets. I have a feeling the RHM household will be going with that this year.