January 3, 2011
Barry Larkin, the proud owner of the first hit I personally ever witnessed at a major league game, will soon know his fate in his second year of Hall of Fame voting. Last year he debuted with 52%. Voting analyst Bill Dean said in this John Erardi article that he'll take only 53% this year; stat nerd Chris Jaffe at The Hardball Times thinks he'll get as high as 61%, based on the interplay of the 10 guidelines he's used to some success in the past few years.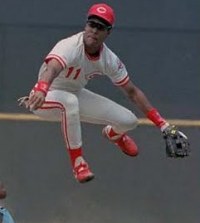 It sounds like everyone agrees that he's going in eventually, though, and that ought to be a no-brainer. This man, the only captain the team has named in 22 years, single-handedly changed the shortstop position from a defensive genius/offensive liability to a defensive genius/power hitter position in the minds of Reds' fans. You can lay the entirety of Paul Janish's struggles for playing time at Larkin's feet.
Go to the Barry Larkin wikipedia page (the one about the Red, not the one about the guy who pulled off the Olympic torch hoax in the 50s), and these are the pages that are listed under "See also":
Top 500 home run hitters of all time
List of major league players with 2,000 hits
List of Major League Baseball players with 400 doubles
List of Major League Baseball players with 1000 runs
List of Major League Baseball leaders in career stolen bases
30-30 club
Jeez, look at that gaudy list. That's just not normal. Which is pretty much the point of the Hall of Fame, right?
And while we're talking about Larkin's playing career, we ought to touch on his post-playing career as well. Can someone in the Reds front office pleeease get this guys back involved with the team? He's going to need to learn his way around the admin of this organization if he's ever to take over as manager.