January 12, 2011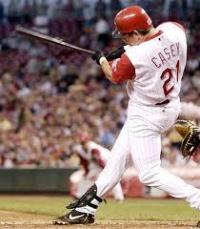 The folks over at Red Reporter had the chance to interview Sean Casey this week, and instead of asking him about any future singing plans, they took the time to talk about him leaving baseball, joining the MLB Network, and his future plans.
It's a good little read, and you should give it a look, if for no other reason than to recall what you liked so much about Casey, one of the few bright spots in the aughts.
Casey did drop this little surprise.
Actually I just signed on to do 15 games for the Reds this year as a color guy. I'll get a chance to get in the booth and see how that goes. I think I'll be doing the games from April 5 through April 7, and later some games in Pittsburgh and in Cincinnati. We're still figuring that out.
So be sure to tune in in early April for the Mayor's debut as a Reds' broadcaster. It'll be great to hear his voice and personality again. And you know it'll have to better than the parade of announcers that have shuffled through the booth the last couple years.