January 11, 2011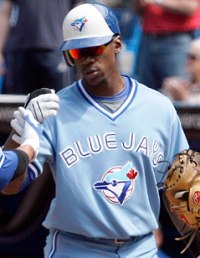 Yesterday's announcement of the signing of Edgar Renteria overshadowed the other free-agent signing by the Cincinnati Reds: Fred Lewis.
A busy January continued for the Reds on Monday as they checked another item off the wish list by signing outfielder Fred Lewis to a one-year contract worth $900,000.
Well, busy if you call doing three things in a month busy. Many of us have an occasional day when we do three things.
The signing of Lewis does fulfill two of the needs general manager Walt Jocketty had identified as goals: a left-handed hitting outfielder and someone who could lead off.
"We felt we had more upside with Lewis, both with his age and in having control over him for a longer period of time," Jocketty said. "We liked his all-around game. We think he'll fit in well with our club. He feels he's capable of stealing more bases than he did. I'm anxious to see what he can do. He'll be a fun guy to watch."
Considering the other candidate was Scott Podsednik, Jocketty made an excellent choice here. Podsednik will be 35 for this next season, and I have a bad feeling about him. Lewis, at 30 for 2011, has more promise. He also has a bit more pop in his bat, which is something you definitely want from a bench guy.
This is probably the extent of the free agent signings by the Reds. Two rather small moves that help round out the club and patch some weaknesses, and all done without destroying the starting lineup. It sure is nice to have a competent general manager.