January 18, 2011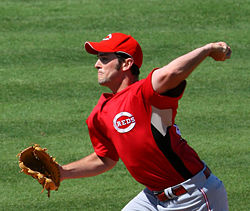 Bill Bray is the latest arbitration-eligible Red to sign a contract with a team without the dreaded hearings. Bray signed a one-year contract for $645,000.
Bray may be best known for how he came to the Reds, as a piece of the infamous Trade that general manager Wayne Krivsky pulled in 2006. All the other players received have long since departed, leaving Bray with the dubious distinction as the last man standing.
Bray joins Jay Bruce (story), Jared Burton (story), and Joey Votto (story) as arbitration-eligible players the Cincinnati Reds have signed this off-season. That leaves just two players for the Reds to sign: Johnny Cueto and Edinson Volquez.
Numbers were to be exchanged today, so it's likely we'll be hearing how far apart the players and the teams are soon.