January 4, 2011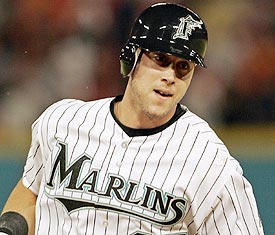 The Cincinnati Reds announced that they have signed outfielder Jeremy Hermida to a minor league contract with an invite to Spring Training.
Normally, I don't think the signing of a player who will, at best, be a fourth outfielder, would get so much attention. But in this off-season of no activity, this is the first real Reds news there's been in almost a month.
Hermida is young at 27, but has shown some promise. He was the first-round pick for the Florida Marlins in 2002, and showed promise in 2007 when he hit 23 home runs, got on base 37% of the time and had a slugging percentage of .501. He's fallen off since then, but since he's still on the right side of 30, there's reason to be optimistic that he can recapture his promise, especially in Great American Ball Park.
Plus, he's left-handed, which would allow him to platoon with Jonny Gomes in left-field. It's the kind of low-risk, high-reward signing that it's nice to see Cincinnati make.