January 30, 2011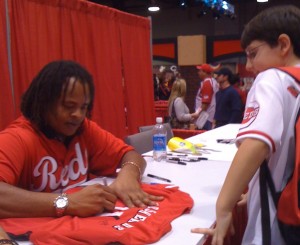 In a move that will no doubt not be officially announced for another week or two, the Cincinnati Reds have signed their last arbitration-eligible player to a contract. Edinson Volquez has signed what is believed to be a $1.6 million, one-year deal.
General manager Walt Jocketty had been attempting to sign Volquez to a multi-year deal, but was unsuccessful.
"We'll see if they're up for doing more later," Jocketty said Sunday from a Reds Caravan stop in Lexington. "We tried to do a multiyear deal. They just wanted to concentrate on the one year now. [Volquez's agent] had a few cases and wanted to get the arbitration thing out of the way."
I think that the Reds escaped an unnecessary risk here. Given Volquez's recent Tommy John surgery, I'm not sure how wise it would be to sign him to a long-term contract. Let him prove he can be healthy for more than a year, first.
The signing means the Reds will not have to tear down Volquez in front of an arbiter, and he won't have to hear such things as, "You and Johnny Cueto have hairstyles that are too similar."