November 9, 2012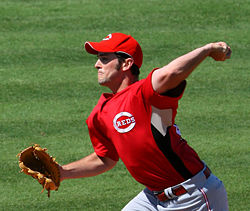 At long last, the Reds have washed their hands of The Trade. The last remaining component, Bill Bray, was outrighted yesterday and chose free agency rather than being non-tendered later.
As you may recall, Bray was supposed to be the bright spot in a deal that sent right-fielder Austin Kearns and shortstop Felipe Lopez to the Washington Nationals in 2006. In addition to Bray, the Reds got Gary Majewski, who was injured (unbeknownst to the Reds) and also just kinda sucky.
It was a deal that was bad for the Reds at the time and bad for both team in the long run. Bray had some brightish points in the last 6 years, but he was injured most of this season and only put in 8.2 innings on the mound. The story on Reds.com says that he made $1.4 million, which comes out to just $170,731.71 per inning. That pretty much sums up the whole situation nicely.
In addition to Bray, Wilson Valdez was also outrighted and elected free agency. Valdez doesn't have the baggage that Bray did, but I doubt people will be sad to see his .236 OBP be unavailable for lead-off duty with the Reds next year.