November 5, 2012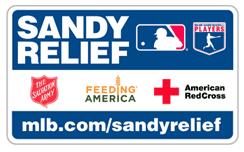 Major League Baseball and the Major League Baseball Players Association are helping with the Hurricane Sandy relief effort by donating money to the Red Cross, Feeding America, and the Salvation Army. Between the two organizations, they're donating $1 million.
You don't have to come up with that much, but if just 10 of you baseball fans donate $100,000 apiece, you'll match that amount!
They're not turning away smaller donations either. You can see MLB's website about hurricane relief and get links to the organization they're supporting.