November 12, 2012
It's hard to believe it's already time to start thinking about Redsfest, but the 2-day extravaganza of Cincinnati-Reds-related fun is December 7 and 8: less than a month away.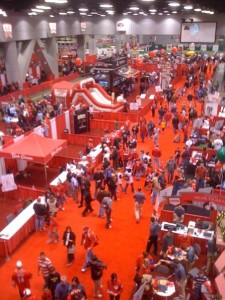 If you've attended Redsfest in recent years, you know there are lots of opportunities to stand in line. And get autographs! Here's the current list of players who are confirmed to appear this year, and more will be added as the date approaches:
Major League Roster:
Bronson Arroyo
Aroldis Chapman
Tony Cingrani
Zack Cozart
Ryan Hanigan
Chris Heisey
Mike Leake
Sam LeCure
Nick Masset
Devin Mesoraco
Xavier Paul
Brandon Phillips
Todd Redmond
Drew Stubbs
Pedro Villarreal
Joey Votto (Friday only)
Coaching Staff:
Manager Dusty Baker
Mark Berry
Billy Hatcher
Brook Jacoby
Juan Lopez
Chris Speier
Mike Stefanski
Minor Leaguers:
Tucker Barnhart
Billy Hamilton
Ryan LaMarre
Kyle Lotzkar
El'Hajj Muhammad
Steve Selsky
Robert Stephenson
Alumni:
Todd Benzinger
Jack Billingham
Tom Browning
Leo Cardenas
Dave Collins
Eric Davis
Doug Flynn
Wayne Granger
Tommy Helms
Tracy Jones
Jim Maloney
Ron Oester
Jim O'Toole
Dave Parker
Broadcasters:
Jeff Brantley
Marty Brennaman
Thom Brennaman (Friday only)
Jim Day
Jim Kelch
Jeff Piecoro
Chris Welsh
Those lists are pretty good, but the part on the Redsfest page that I found most interesting was this tidbit:
In nearly all cases if players are unable to attend Redsfest because of a scheduling conflict, they will be attending portions of the Reds Caravan in January.

Players & staff members who are unable to attend Redsfest 2012 include Jay Bruce (wedding/honeymoon) & Didi Gregorius (out of the country). Jay will be making an appearance on the Reds Caravan in January 2013, exact details TBD.
Jay Bruce is a ginormous name to have on the Caravan roster. We got Nick Masset last year, and were happy to have him. Whatever mall, restaurant, or auto-dealership is hosting Bruce is going to be jam-packed.
Plus the getting married part. I wonder where they're registered.