January 31, 2013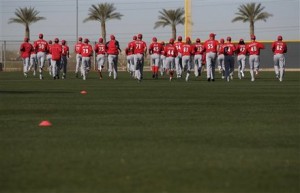 Earlier this week when walking back to my house following a run in the unseasonably warm weather, I stopped by my lilac bush. It has buds on it. And my thoughts turned to baseball.
Today is the last day of January, and Spring Training will begin soon. Even now, the Reds are sprouting with activity.
The Reds' equipment truck headed to Goodyear, AZ leaves Great American Ball Park on Monday (Feb. 4).
That's right, next Monday, baseball equipment will be headed to Goodyear, followed quickly by the coaching staff and the most glorious words to be heard during the long winter: "Pitchers and catchers report."
Here's the Reds schedule starting in February and through the first game of the 2013 season.
February 4: Reds' equipment truck leaves Cincinnati.
February 11: Dusty Baker and staff arrive in Goodyear.
February 12: Pitchers and catchers report.
February 15: Position players report.
February 22: First Spring Training game against the Cleveland Indians.
April 1: Opening Day against the Angels in Cincinnati.
Three weeks until baseball will be played. Two months until the Reds get a chance to defend their division title.