January 7, 2013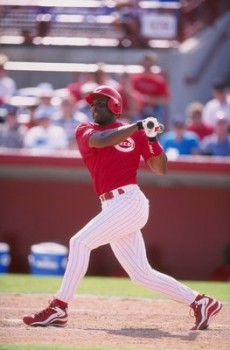 The Baseball Hall of Fame will announce the results of who was voted in by writers on Wednesday of this week. Of the 37 former players on the ballot, seven of them have ties to the Cincinnati Reds.
Of these players, Sanders is the only one anyone would consider a Red. Sanders was drafted by the Reds in the 1987 draft and played his first eight Major League seasons for Cincinnati.
For the most part, the others were all with the Reds towards the end of their careers, long after their most effective seasons. Smith was traded to the Reds in 1996 for a portion of the season. The Reds traded for Wells to help them down the stretch in their division-winning 1995 campaign. Although I don't remember it, Conine was with the team for most of 2007 before being traded to the New York Mets. Clayton was, of course, received during former general manager Wayne Krivsky's horrible trade of 2006. Walker was the team's second baseman for 2001 and 2002. And Stanton was another one of Krivsky's horrible moves. Stanton was signed for 2 years for what would be his age 40 and 41 seasons. He last just one of those years before being released.
Of these players, the only ones with any real Hall of Fame chances are Lee Smith and Reggie Sanders, and neither are likely to make it. Smith held the record for the most career saves for many years, but the voters still haven't realized that closers, much like designated hitters, are legitimate baseball positions that deserve representation in the Hall. That's unlikely to change this year.
As for Sanders, he was an accomplished player, but is likely resigned to the Hall of Very Good. Over his career, he accumulated an average of .267, an on-base percentage of .343, and a slugging percentage of .487. Not bad, but not Hall of Fame caliber. His best years was 1995 when he hit 28 of his 305 home runs, and helped the Reds win the Central Division.
So no players who played for Cincinnati are likely to be voted in this year. But then, if you believe what Deadspin says, it's likely that no players will be voted in.