January 18, 2013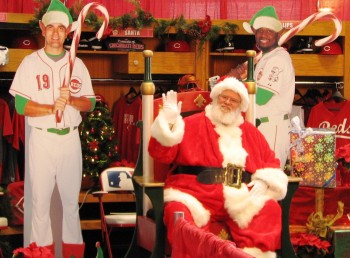 The rosters for the World Baseball Classic were released yesterday, and Brandon Phillips will be playing for Team USA.
Phillips was hesitant, at first, but manager Joe Torre convinced him.
"My conversation with Joe Torre convinced me to really do it. I wanted to do it the past. But some of the players got hurt and started off real slow in the season. Talking to Joe Torre, he said representing the country was something I could always say to my kids — to say I played for the country."
Phillips is the only member of the Cincinnati Reds named to any of the WBC teams. Neither Joey Votto and Johnny Cueto were on their respective country's rosters. At first, I wondered what the deal was. It's not like there are any Canadian first baseman blocking Votto.
But it turns out that both Votto and Cueto, because of their injuries during the 2012 season, are on a chronic injury list. That means that the two must pass physicals before being cleared to play.
I wouldn't mind if neither of them didn't end up playing in the WBC. I understand there's some national pride involved in playing for your country, but I'd hate to see any player get seriously injured playing a meaningless game.