January 14, 2013
We tuned in for the sneak peek of Pete Rose: Hits and Mrs last night on TLC. I was fully expecting it to be the latest headshaker in the line of headshake-inspiring activities that we've come to expect from Rose.
In fact, the program was quite mundane. The episode I watched contained:
Multiple references to how sorry he was for his mistakes
A short scene in a batting cage, but no other baseball that I noticed
Plenty of his super-hot, surprisingly intelligent, and unduly tolerant fiancee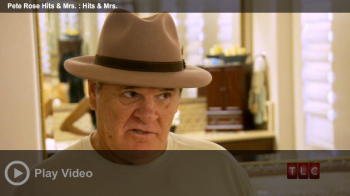 There were also several mildly racist comments (to explain how nice the Mexican restaurant where he proposed was, Rose said "I don't think any Mexicans go there") and some really sophomoric behavior (like showing a picture of his scantily clad fiancee to her mother) but that's where the outrageousness ended. Pretty bland for reality television.
Rose says he wants the public to get a chance to know him through this show, but unless his stepkids-to-be turn into Honey Boo Boos, I don't see people taking the time to tune in to this one. That being said, his own kids haven't shown up; there might yet be plenty of emotionally stunted drama to come!
The show is Pete Rose: Hits and Mrs. It is on Mondays at 10 p.m. ET on TLC. Check out TLC's website for more information.