Monthly Archives: October 2008
October 28, 2008
As you may have noticed from the sudden and shocking lack of posts from me on this weekend, the Red Hot Family took advantage of fall break at the elementary school to make a family trip to Cancún México. We even got some education in to the event with a day-trip to Chichen Itza to marvel at the ruins in between getting sunburned on the beach.
On Friday, the second day in Mexico, we donned slightly less beachworthy attire and went to catch the bus to downtown to do some shopping. As we stood waiting for someone to appear at the money-changing counter, an older gentleman who is checking out of the hotel strikes up a conversation.
"I noticed your Reds shirt. Are you from Cincinnati?" asks the friendly, familiar man.
"Indianapolis," I tell him.
"Oh, so Reds fans are you? I cover the Reds for the Dayton Daily News," he responds.
That's right: we ran into Hal McCoy and his wife in the lobby of the Westin Resort and Spa in Cancún, Mexico. Small world.
October 28, 2008
You know, I went to bed last night before I knew what was going to happen with the game. And yet, this morning, when I saw the Yardbarker headline, "Bud Selig is an Idiot," it didn't occur to me that it had anything specifically to do with the World Series.
As long as Selig is around, a team might be better off to stop concentrating on how it can make itself better according to the current rules of the game. Instead, they should focus on ways that their winning makes money for MLB, and Selig will find a way to make it happen.
October 22, 2008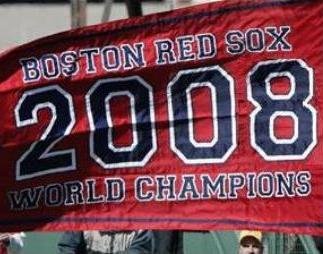 The Phillies and the Rays. Two teams that most people don't feel any particular malice toward–neither even managed to screw Wayne Krivsky, which was all the rage among teams there for a while–face off tonight in the battle of not-at-all-threatening animals.
Meanwhile, the Red Hot Family packs up for a long weekend in beautiful Cancún, Mexico, where I expect the Series to be as easy or easier to catch as stateside. Even if it's not, there's not need to worry; with the television schedule of the World Series, we may not miss a single game.
As I sit in my son's room, providing a calming influence as he tries to fall asleep in the face of the excitement of riding in a plane tomorrow, the Phillies take the early lead. Across the top of my browser window, headlines from Reds.com scroll across a small text field. Yes, I actually installed the Cincinnati Reds toolbar in my browser. Who knows what sneaky spyware MLB has included to watch me do such scintillating computer activities as finish my statistics homework and do the gardening in my son's Webkinz account.
All this and more can be yours, as well. You can download the toolbar from Reds.com. It's right on the front page, right under the big photo at the top.
"Special events spice up offseason" reads the ticker. I guess they're talking about RedsFest, which is already fast approaching. In the same email where I found out about the toolbar, I saw this announcement:
SAVE THE DATE FOR REDSFEST
Mark your calendars now for Kahn's Redsfest XI, benefiting the Reds Community Fund on Dec. 12 and 13 at the Duke Energy Center in downtown Cincinnati. Make sure you come down to baseball's premier winter fan fest and get your fix for Reds baseball during the offseason. Current and former Reds stars will be on hand for autographs and photos, plus don't miss all the interactive games and exhibits, hard-to-find memorabilia, and much more!
As incompetent as the Reds are at putting together decent team management, I've got to give them credit for RedsFest. It is a baseball extravaganza, and I heartily recommend it, especially for the kids.
Speaking of kids, mine appears to be asleep now, with visions of airplane peanuts dancing in his head. Peace out.
October 21, 2008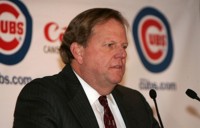 The Chicago Cubs rewarded the success of General Manager Jim Hendry this week by signing him to a 4-year extension. That will keep him guiding Cubby blue through 2012.
I've always felt that Hendry is, at best, a mediocre GM. The albatross of a contract he gave Alfonso Soriano is already being regretted. His results are impressive, though: 3 post-season appearances in 6 years on the job. That's good for any baseball team. For the Cubs, it's unbelievable.
Still, extending Hendry immediately following the Cubs 9th straight loss in the playoffs is a move that brings its fair share of chuckles in the RHM household. Maybe Hendry will improve his post-season record before 2012. It wouldn't take much.