January 15, 2009
Reds 2-game packs for spring training games went on sale on Saturday, and I gotta say, this is a *brilliant* racket they've got going on. Bundle up tix to your impossible-to-get-into-games with tix to your can't-give-em-away games and how can you go wrong?
Just take a look at these awesome combinations:
1: Twins and Phillies (not sure what that one's about)
2: Yankees and Pirates
3: Red Sox and Pirates
4: Blue Jays and Red Sox
5: Yankees and Pirates
All those Pirates games are going to sell out, but no one's actually going to be at them, since 90% of the tickets will have been purchased by Yankees or Red Sox fans.
They may also be empty due to this little confusion gem: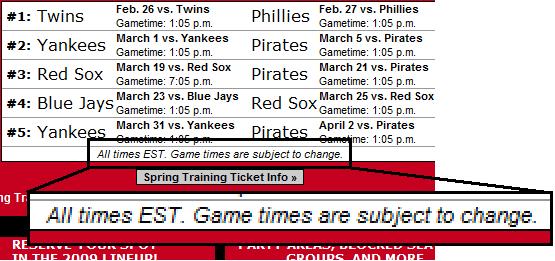 Daylight time starts March 8, folks!