May 9, 2010
| Team | 1 | 2 | 3 | 4 | 5 | 6 | 7 | 8 | 9 | R | H | E |
| --- | --- | --- | --- | --- | --- | --- | --- | --- | --- | --- | --- | --- |
| Cubs (14-18) | 0 | 0 | 0 | 0 | 0 | 0 | 3 | 0 | 0 | 3 | 5 | 1 |
| Reds (16-15) | 0 | 2 | 0 | 0 | 0 | 0 | 3 | 0 | - | 5 | 6 | 0 |
W: Leake (3-0) L: Dempster (2-3) S: Cordero (10)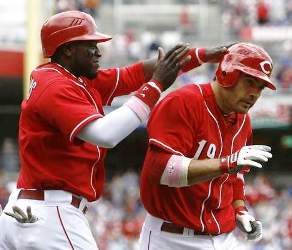 The Cincinnati Reds put away the Chicago Cubs Sunday, thanks to the continued awesomeness of rookie starter Mike Leake and young stud Joey Votto.
Leake won his 3rd game of the season, to lead the Reds starters in wins. He again lasted 7 innings, shaming all the other older, more experienced starters. He also had excellent control, striking out 7 and walking only 1. And that's not even mentioning his no-hitter he took into the 6th. Most strikingly for a Reds pitcher, he only threw 91 pitches. He continues to impress.
Also impressive, Joey Votto. The Reds took an early lead in the second that Leake made stand up until the 7th. The Cubs took their only lead on a home run from Tyler Colvin. But in the very bottom of the inning, Joey Votto came to at with 2 on and the team losing by 1. He launched one off Ryan Dempster to right field to retake the lead.
Francisco Cordero closed out the 9th for his 10th save.