May 24, 2010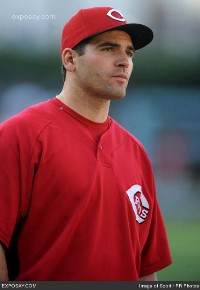 Dammit, I'm sick of the Reds' All-Star reps being limited to those required by the rules. This ain't NCAA and ain't no one asking for Title IX.
Especially when Cincinnati has a legit All-Star in our midst. Joey Votto leads all NL first basemen in:
batting average (.307)
home runs (10)
RBI (32)
OPS (.950)
Plus, for an extra bonus, he's tied for the lead in:
runs scored (29)
stolen bases (6)
So thus begins the campaign to elect Joey Votto onto the starting line-up for the All-Star Game in July. There's still over a month of voting left, but we're going to have to start now if we want to dethrone "Prince Albert."
You can vote online 25 times per email address.


Don't worry if you forget to uncheck the "Send me a bunch of MLB spam" box one of the 25 times you vote; they're going to send you the crap either way.
After you vote, grab the badge on the right and use it with pride, and tell your friends.