May 16, 2010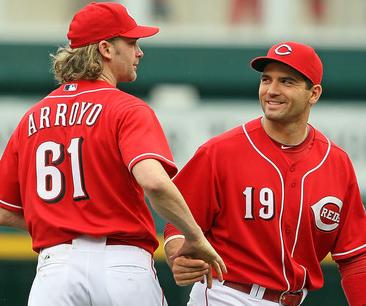 Woo-hoo! The Reds have taken over first place in the NLC, and while they've briefly held the top spot in the division early in the season before, the series to get them here was such a rush. My thoughts are too all-over-the-place for paragraphs, so you get them in bullet-point form:
After the first game of the series, Jonny said the Cards really had Joey Votto's number. That's when I realized that–deep-down–I don't really believe that anyone can stop Joey Votto except Joey Votto. He's been trying real hard these last few games, but what he must realize is that he must do, or do not. There is no try.
I think Bronson Arroyo is well-suited to the kind of atmosphere the team has right now, where he's having to keep up with the kids in the rotation. It inspires Good-Royo and chases away Bad-Royo.
Which is good, because the Reds will go as far as their starting rotation can take them. It doesn't hurt that they actually have good defense for a change.
I <3 Jonny Gomes. That super-intense, borderline-frenzied look he sometimes gets reminds me so fondly of Ryan Freel. I think he even says, "you know" a million times when interviewed after the game, just like Freel used to.
The Cardinals don't seem to realize what a serious problem they have. Carp getting huffy when someone shows frustration, Card bloggers saying Gomes shouldn't flip his bat, Card commentators saying the umps should show respect to Pujols. It's one thing to go onto the field expecting to win; it's another thing to go onto the field expecting people to let you win. This sense of entitlement screams sick culture. If the Cards were a Fortune 500 company, they'd be on their way to hostile takeover.
While I was at the game on Friday, the Civil Rights segments on the big board talked about not just race in baseball, but gender and sexuality, too. I don't think that woman is going to make it into the big leagues any time soon, but it did occur to me that it's going to be in my lifetime when we have the first openly gay active player. In fact, it may be in the next few years. Now it's just a race to see who owns up first. Life will be tough for that guy in some ways, but he'll also inspire a huge following and validate a lot of younger guys out there. Plus, he'll go down in history. Maybe not quite Jackie Robinson level history, but still pretty bad-ass.