November 16, 2010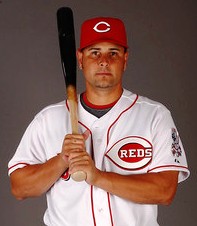 After not getting enough playing time to trigger his option for next season, the Cincinnati Reds signed free agent Ramon Hernandez to a $3 million, one-year contract.
Hernandez was a solid part of the catching duo that the Reds fielded last year, as he split playing time with Ryan Hanigan to form one of the best catching combos in the game. Combined, they batted .296 and had an on-base percentage of .375.
On re-signing Hernandez for a second straight year, Reds General Manager Walt Jocketty said, "We wanted to provide our young pitching staff with some continuity. We felt all of our pitchers were comfortable pitching to Ramon."
It's a signing that makes sense, as the Reds system is low on catchers. This was evidenced by the call-up of Corky Miller for a portion of the 2010 season. It also speaks to the Reds opinion of the other available free agent catchers.
My only concern is about who gets the most playing time. Hanigan is coming along as the better of the two catchers, and 2011 is the time for him to get the bulk of the playing time. By 2012, Devin Mesoraco should be ready for his chance in the bigs.