November 28, 2010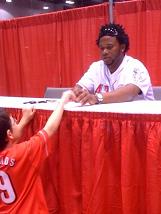 We just bought our tickets for Redsfest 2010! This is the first time the family is heading out for both days, and since it requires interstate travel to get there, we've also booked a hotel. So, it's an official commitment; two complete days of autographs, climbing the Powerade rock wall, and watching whatever wacky stuff they put up on the stage.
Sorry fourth-grade basketball team that our son is on: we're skipping the Saturday morning game because we have our sport priorities in order. Sorry kitty cat who will not have us to meow at all night: you'll just have to mew in an easterly direction and hope the message gets through.
I don't know about you, but this is just about the most excited I've ever been for a Redsfest. There's just so much up-beat stuff to talk about and so much promise for the future. Plus, since it's coinciding with the semester drawing to a close, it means not only content to write about, but also time to write it.
I hope to see you at Redsfest. Keep an eye on RHM for photos galore.