December 7, 2012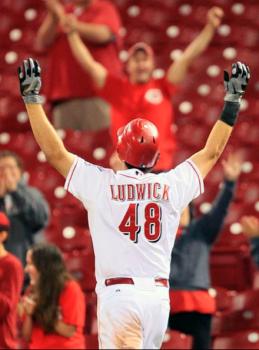 The Cincinnati Reds started off their annual fan convention RedsFest with a bang, announcing the re-signing of slugger and left fielder Ryan Ludwick.
Cincinnati Enquirer reporter John Fay had the early details.
The Reds and left fielder Ryan Ludwick have agreed to terms on a two-year deal with the mutual option for a third year, a baseball source confirmed.

"It's close," Reds general manager Walt Jocketty said. "We hope to have it resolved by early next week."
Basically, that quote from Jocketty means that Ludwick has to pass a physical before the Reds will officially announce the deal.
But this does mean that the Reds have a left-fielder and clean up hitter for the 2013 season. Ludwick rebounded quite nicely in Great American Ball Park in 2012, hitting .276/.346/.531 with 26 home runs. He was especially huge when Joey Votto was injured and then at the end of the season. Hopefully he'll be able to repeat that performance next season.