December 11, 2012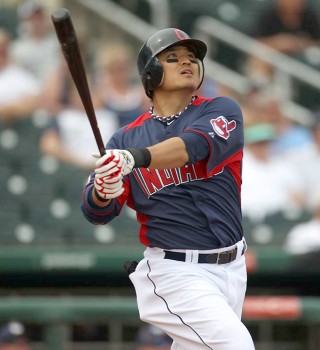 Wow. Just like last year's trade for Mat Latos, I did not see this one coming. Today, the Cincinnati Reds traded Drew Stubbs and Didi Gregorius to the Cleveland Indians for Jason Donald and Shin-Soo Choo, solving the lead-off problem.
"It was very difficult giving up home-grown talent, but we think Choo can fill the missing parts in our lineup both offensively and defensively," Jocketty said. "He is an exciting player, and we expect him to set the table for Phillips, Votto, Bruce, Ludwick and the rest of our run producers."
Following the trade with the Reds, the Indians flipped Gregorius to the Arizona Diamondbacks, who were in need of a shortstop. Arizona also received left-handed pitcher Tony Sipp and first baseman Lars Anderson, while the Indians received right-handed pitchers Trevor Bauer, Matt Albers, and Bryan Shaw.
But the most exciting part about this is the Reds' side of the deal. Right now, I see no down-side to this deal. Stubbs had shown that he wasn't suited for the lead-off role where the Reds needed him. And with Zack Cozart under team control for the next 4-5 years, Gregorius, who was already knocking on the Major League door, was expendable.
General Manager Walt Jocketty has done an amazing thing here. The Reds managed an on-base percentage barely over .200 last year. With the acquisition of Choo, the team has almost doubled the on-base percentage from that spot. For his career, Choo gets on base at a .381 clip.
Not to mention the fact that for the first time, the Reds will have a lineup that's totally Dusty Baker proof. In Baker's world, the speedy center fielder leads off, regardless of his skills. Stubbs was ill suited for that role. Choo is perfect for it.
The whole lineup looks very potent right now, too.
Shin-Soo Choo
Brandon Phillips
Joey Votto
Ryan Ludwick
Jay Bruce
Todd Frazier
Zack Cozart
Ryan Hanigan
That's a damn fine-looking lineup. Perhaps the best one the Reds have fielded since they started winning again.
Choo has one year before he's a free agent, but after that the Reds expect Billy Hamilton to be ready. So basically, they turned Stubbs and Gregorius, players who aren't expected to have positions in the lineup in 2014, into a rental center fielder for this season. And one of the best parts is that Jocketty didn't have to trade away any pitching.
When does Spring Training start? This has me getting excited.