Last game
The Reds were unable to take the series from the Cardinals, losing 10-0 in what was an embarrassing outing all around. The offense managed 5 hits and no runs, and the pitching was something you hope to never see again. Homer Bailey was solid through the first four innings, but fell apart and was knocked out of the game in the 5th when he allowed 4 runs. Both John Jay and Carlos Beltran hit homers off him in that inning. The bullpen arrived to throw gasoline on the fire and turn the game into the Reds' first shutout of the season.
Next game
The Reds have a day off today as they travel to Pittsburgh where they start a three game series with the Pirates on Friday. Mike Leake will start against AJ Burnett tomorrow at 7:05 pm.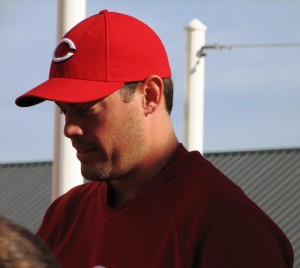 Marshall disabled and Ondrusek called up
Despite his lone appearance being a 1-2-3 inning, Sean Marshall will be making a trip to the disabled list. Logan Ondrusek fills his roster spot.
Marshall has had a tired shoulder since the end of spring training.
"I felt great (Tuesday)," Marshall said. "I pitched Sunday. I didn't feel great Monday. I like to bounce back well. We thought it was the best thing (to go on the DL). The bullpen has been working hard. To have somebody fresh who is able to pitch in consecutive days. … I was close to being able to do that. I understand we have an off day tomorrow.

"But it was in the best interest of myself and the rest of the guys to take this little DL stint and strengthen my shoulder and get it back to 100 percent, so I can pitch the rest of the year without problems."
With as many innings as the bullpen has pitched, not having Marshall available has been painful. Hopefully, Marshall's time on the DL will fully restore his shoulder so he's dominating hitters later in the season.
What to say to sound smart at the water cooler
With Cesar Izturis' start at shortstop yesterday, second-baseman Brandon Phillips has now played with 23 different shortstops during his Cincinnati tenure. In addition to Izturis, Phillips has played with Didi Gregorius, Wilson Valdez, Todd Frazier, Zack Cozart, Edgar Renteria, Orlando Cabrera, Miguel Cairo, Paul Janish, Drew Sutton, Chris Valaika, Alex Gonzalez, Jerry Hairston Jr., Adam Rosales, Jolbert Cabrera, Juan Castro, Jeff Keppinger, Enrique Cruz, Pedro Lopez, Rich Aurilia, Royce Clayton, Felipe Lopez, and last, but not least, Ray Olmedo.