April 23, 2013
a list of all the injured players
across Major League Baseball to compare the Reds to their National League Central opponents.
The Milwaukee Brewers have been the unluckiest, with seven players on the disabled list. The Chicago Cubs are next with six, the Reds have five, and the Pittsburgh Pirates have four. That leaves the St. Louis Cardinals as the healthiest team, with just three players on the DL.
The Brewers have been hit the hardest by far, with two players out for the season. Aramis Ramirez, Mark Rogers, and Jeff Bianchi are on pace to be back in the next few weeks, but Corey Hart and Chris Narveson aren't expected back until May.
None of the Cubs players are listed as being out for the entire season, but they are the Cubs. Historically, no one is as unlucky as them.
That brings us to the Reds. Like the Cubs, no one is out for the year, although at this point it's easy to wonder if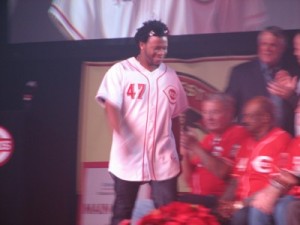 Nick Masset will ever pitch again. He hasn't pitched since 2011. Ryan Ludwick is the most severely injured and isn't expected back until the All Star Break. The rest–Sean Marshall, Johnny Cueto, and Ryan Hanigan–are all expected back in May.
The Pirates have been healthy during the season. All of their four players started the season on the DL.
The Cardinals are similar to the Pirates. Two of their three players were placed on the DL during spring training. Those two–Chris Carpenter and Rafeal Furcal–were big potential parts of the team and will be missing the entire season. Jason Motte is the only one to be injured during the season.
Overall, the Reds seem to be in the middle of the pack. Sure, all but one of their disabled players have occurred in the first month of the season. But with the exception of Ryan Ludwick, those injuries appear to be minor and the players are expected back in May. Assuming the rash of injuries stops, then the earliness of the season almost insures that these injuries won't have a major impact on the team's overall performance.
Milwaukee Brewers (7)
| Updated | Player | Pos | Injury | Expected Return |
| --- | --- | --- | --- | --- |
| 04/20/13 | Mark Rogers | SP | Shoulder | 15-day DL. Expected to make Double-A rehab start April 23 |
| 04/19/13 | Taylor Green | 1B | Hip | 15-day DL. Out for season |
| 04/13/13 | Jeff Bianchi | SS | Hip | 15-day DL. On Double-A rehab assignment |
| 04/09/13 | Chris Narveson | RP | Finger | 15-day DL. Out until at least early May |
| 04/08/13 | Corey Hart | 1B | Knee | 60-day DL. Out until at least late May |
| 04/06/13 | Aramis Ramirez | 3B | Knee | 15-day DL. Out until at least mid-April |
| 03/20/13 | Mat Gamel | 1B | Knee | 60-day DL. Out for season |
Chicago Cubs (6)
| Updated | Player | Pos | Injury | Expected Return |
| --- | --- | --- | --- | --- |
| 04/22/13 | Matt Garza | SP | Elbow, lat | 15-day DL. Expected to make Double-A rehab start April 24 |
| 04/14/13 | Steve Clevenger | C | Oblique | 60-day DL. Out until at least mid-June |
| 04/13/13 | Kyuji Fujikawa | RP | Forearm | 15-day DL. Out until at least late April |
| 03/31/13 | Scott Baker | SP | Elbow | 60-day DL. Out until at least late May |
| 03/27/13 | Arodys Vizcaino | RP | Elbow | 60-day DL. Out until at least early August |
| 04/14/13 | Ian Stewart | 3B | Quadriceps | 15-day DL. On Triple-A rehab assignment |
Cincinnati Reds (5)
| Updated | Player | Pos | Injury | Expected Return |
| --- | --- | --- | --- | --- |
| 04/22/13 | Sean Marshall | RP | Shoulder | 15-day DL. On Triple-A rehab assignment |
| 04/21/13 | Ryan Hanigan | C | Thumb | 15-day DL. Out until at least early May |
| 04/21/13 | Nick Masset | RP | Shoulder | 60-day DL. Out until at least late May |
| 04/15/13 | Johnny Cueto | SP | Triceps | 15-day DL. Out until at least late April |
| 04/15/13 | Ryan Ludwick | LF | Shoulder | 60-day DL. Out until at least early July |
Pittsburgh Pirates (4)
| Updated | Player | Pos | Injury | Expected Return |
| --- | --- | --- | --- | --- |
| 04/22/13 | Charlie Morton | SP | Elbow | 15-day DL. Expected to make Double-A rehab start April 23 |
| 04/20/13 | Francisco Liriano | SP | Arm | 15-day DL. On Double-A rehab assignment |
| 04/10/13 | Jeff Karstens | SP | Shoulder | 15-day DL. Out until at least mid-April |
| 03/20/13 | Chase d'Arnaud | SS | Thumb | 60-day DL. Out until at least early June |
St. Louis Cardinals (3)
| Updated | Player | Pos | Injury | Expected Return |
| --- | --- | --- | --- | --- |
| 04/12/13 | Jason Motte | RP | Elbow | 15-day DL. Out until at least early May |
| 03/30/13 | Chris Carpenter | SP | Neck, arm | 60-day DL. Out for season |
| 03/23/13 | Rafael Furcal | SS | Elbow | 15-day DL. Out until at least early September |
With the minor injuries to Zack Cozart and Jonathan Broxton recently, I started thinking about how injury prone the Cincinnati Reds have seemed so far during the 2013 season. So I loaded up