July 12, 2007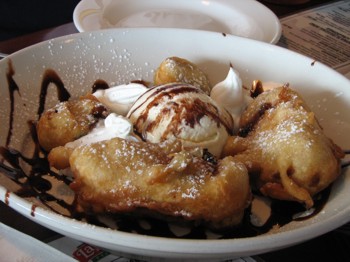 Not last weekend but the weekend before, the Crack Technical Staff and I met up with our Cardinal-fan counterparts Bellyscratcher and Proxy for a weekend of fun in Cincinnati while our teams duked it out on the field.
It's fun to show off Great American Ball Park to new visitors, and we started at The Machine Room Grille to have some snacks while we watched batting practice. Pictured here, the delightfully indulgent Ultimate Gourmet Delight, comprised of deep fried Twinkies, deep-fried Double-Stuff Oreos, and vanilla ice cream. It was fantastic, but my heart is glad we split it among the four of us.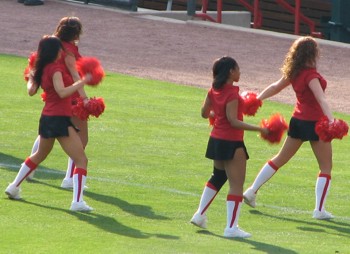 Then it was on to our seats to show off the MDX Reds Crew. I believe Bellyscratcher's exact comment was, "The Reds have cheerleaders?" Yep. They sure do, though they're really more dancers than cheerleaders, and for some reason they're always on the visitor's side. We also pointed out the Rally Pack and gave them the rundown on the difference between Mr. Red, Mr. Redlegs, and Gapper. Rosie Red must've had a prior engagement because she wasn't anywhere to be seen.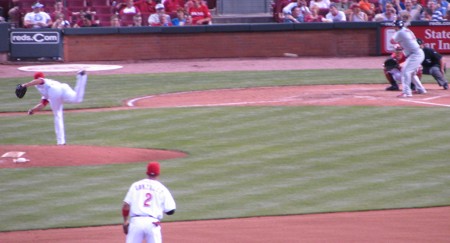 Finally the game was on, just a scant two hours after we entered the park! Our seats were under the scoreboard, which gave us good shade and would have been great cover if it had started raining. It was a little noisy, thanks to the sound bouncing back at us off the overhang. It was also a little far from the action, but still a good view. The view was even better, thanks to the Reds actually winning a game. Back in those days--the Narron era--wins weren't as common as they are today, so it was a special treat.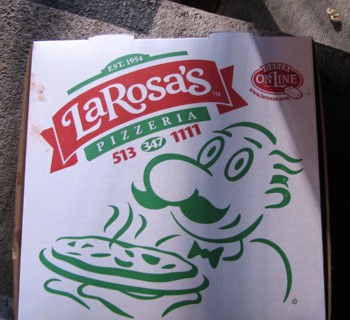 Even so, the experience wasn't complete until we used a cell phone to order a pizza and had it delivered to our seats. That's baseball, baby.