January 17, 2008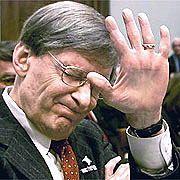 What, you were expecting someone other than Bud Selig?
Despite saying repeatedly that he would retire after 2009, Selig accepted the offer of a 3-year contract extension.
The man who courageously lead baseball into its steroid mess will also be the one to blindly lead it out. This time he's got just four years to do it, unless he accepts another extension in 2012, which he's assured everyone he won't. Just like in 2006.