January 12, 2010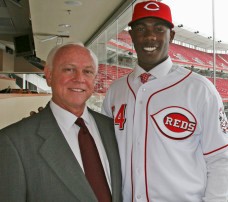 All off-season I've been hoping the Cincinnati Reds would do nothing before the next season starts. It's not because I think they have the perfect team that just needs another chance, or because no one else better is available. No, it's mainly because I'm terrified that they'll screw things up and sign another Willy Taveras. Imagine my surprise and delight upon their biggest signing.
It's been very clear since Dan O'Brien was the General Manager–probably even before then, but that's when I started following the team again, so that's what counts–that the Reds need to upgrade their farm system and then use those players instead of veterans. They've done a bang-up job of drafting players. Probably better than at any point in the team's decades-long history. It's the second part of that plan they've been struggling with.
Given that fear, I am absolutely thrilled with the Reds signing of Aroldis Chapman. Holy crap, did they do something awesome here.
The top-rated pitching prospect in the world! A lefty-with plus speed and control! And the best part is the future isn't even mortgaged! Sure it's a $30 million deal, but it's spread out over 10 years. The details are complicated, but it does insure that even if Chapman is a bust, the team isn't hamstrung with an albatross every year.
The Reds bloggers seem to be quite happy about it, too.
Of course, the answer to the real question remains to be seen. Will they actually play him? Dusty Baker is not exactly known for fielding teams filled with rookies. With this being the only signing of note before the 2010 season, when Chapman is ready, Baker may not have a choice.