January 14, 2010
January 28 to January 31 the Reds are sending out three troupes to visit the tri-state area, plus West Virginia, to parade them out for the die-hard fans who just couldn't wait till pitchers and catchers report a few weeks later.
Of course I'll be there.
The Reds Caravan is your opportunity to see people and things up you don't usually get to see up close and personal. For example, last year, the team brought Manager Baker to Muncie, Indiana for the stop I attended and I was treated to people wearing "In Dusty We Trusty" without a bit of irony.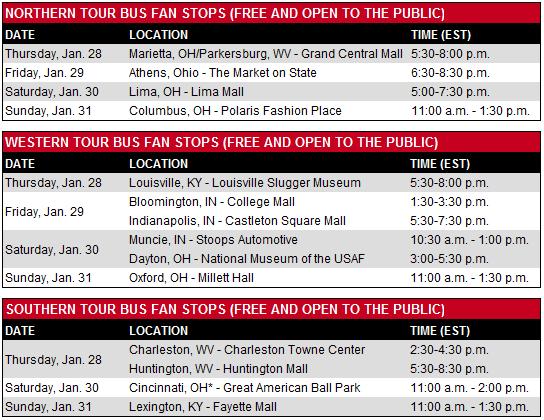 The Northern Leg of the tour will feature:
Marty Brennaman
Chris Welsh
Bob Miller
Brandon Phillips
Glenn Braggs
Chris Heisey
Gapper
The Western Leg will feature:
Thom Brennaman
Phil Castellini
Walt Jocketty
Todd Benzinger
Jay Bruce
Todd Frazier
Mr. Redlegs
The Southern Leg gets:
Jeff Brantley
Jim Kelch
Dusty Baker
Eric Davis
Paul Janish (Thursday/Friday only)
Adam Rosales (Saturday/Sunday only)
Zack Cozart
Gene Bennett (Thursday only)
Rosie Red
Those southerners are in for a treat. We got Rosie last year, and she is a delight.
Check out the full details for yourself on the Reds Winter Caravan page.