April 9, 2010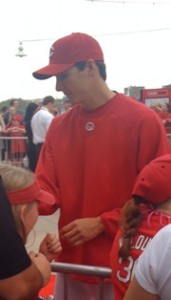 It's a beautiful Friday and except for the fact that DirecTV had decided that they'll just ignore the HD signal, I'm enjoying sitting in front of the t.v., watching the Reds game.
Homer Bailey is not exactly having the best game tonight, eh? Plenty of bad luck and a balk to boot. Nice of the Reds to wake up the Cubs' defense for them, though. Very generous.
I was thinking about the first basemen of the NLC. This is a pretty impressive list:
Astros: Geoff Blum
Brewers: Prince Fielder
Cards: Albert Pujols
Cubs: Derek Lee
Pirates: Jeff Clement
Reds: Joey Votto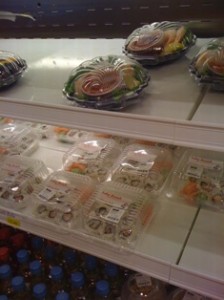 Well, now that I look at the whole list, only half of it is impressive. But that half is seriously impressive.
I don't know if anyone else has gotten up the courage to try the sushi at the Great American Ballpark, but I plunked down the 12 bucks for the smoked salmon roll on Wednesday. They were out of soy sauce (you'd think for $12 they could have some delivered) but the salmon was good and the rice and wrap were…well, what they always are. I thought the wasabi was flavorless at first, but it built and by the end I was literally crying. And it wasn't because of the seventh inning. Well, not just because of the seventh inning.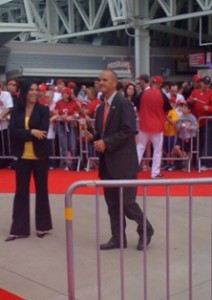 The game was the Reds' "first annual opening night," as they try to make as big a deal out of the second game as out of the first one. I think it's a great idea, though if the second game gets as expensive to go to as the first, we'll have to make the third game into the blogger game. Of course, if that gets to be the case, maybe the team will make the third game into The Blogger Game. Just think of the vulgarity and smart-assedness that would fill the stadium!
My son has gotten into autograph collecting, so we went to the event where some players were signing. The star of tonight's game, Homer Bailey, was among those who signed his Reds Heads jersey. Also in attendance was the reason neither the third game nor any game of the Reds' season will ever be The Blogger Game, Rob Butcher. I snapped a photo because of the irony. And because of that mighty sharp suit.
P.S. For anyone following the DirecTV HD saga, the CTS got on the phone with their customer support and five people and 60 minutes later, they claimed they weren't getting the feed at all. Not sure how I can prove they're lying. If only ANY other satellite provider offered baseball!