April 18, 2010
| Team | 1 | 2 | 3 | 4 | 5 | 6 | 7 | 8 | 9 | R | H | E |
| --- | --- | --- | --- | --- | --- | --- | --- | --- | --- | --- | --- | --- |
| Reds (5-8) | 0 | 0 | 0 | 0 | 1 | 0 | 1 | 0 | 1 | 3 | 5 | 1 |
| Pirates (7-5) | 0 | 0 | 0 | 5 | 0 | 0 | 0 | 0 | - | 5 | 5 | 1 |
W: Maholm (1-0) L: Arroyo (0-1) S: Dotel (3)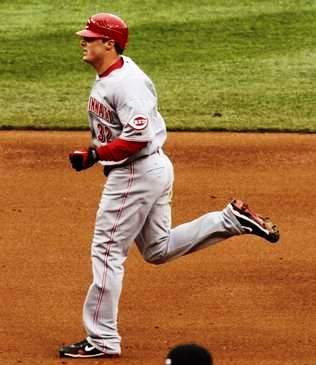 Remember when the Cincinnati Reds embarked on this road trip by winning the first two games against the Florida Marlins? The Reds never won again, losing the final two to the Marlins, and getting swept by the Pittsburgh Pirates today.
All in all, a road-trip that started off so promising got totally Redsed up along the way.
The goat for the final terrible loss to the Pirates was none other than Bronson Arroy. Fresh off of sucking his last time out, he improved slightly by bringing the suck for just one inning. Arroyo went 6 innings, allowing 5 runs–all of them in the 4th–on 5 hits, 3 walks, and 7 strikeouts. Unlike for his last start, there were no late inning heroics to bail him out, and he got the loss he so rightfully deserved.
Paul Maholm started for the Pirates and dominated for much of his time. He pitched 6 2/3 innings, and allowed only 2 runs for the win.
The only good news for the Reds was Jay Bruce. Bruce has been the bad-luck kid all year for the Reds, routinely making excellent contact, but hitting line drives straight at fielders. Today, he hit on the concept of hitting the ball into the stands. No one, except maybe Jim Edmunds, is likely to catch those. And hit Bruce did, launching 2 home runs on the game. They were both solo shots, but that's more an indictment of the Reds crappy hitting lately than Bruce. Hopefully, the signs of life from Bruce continue after the off-day on Monday.