Last Game
Despite Jay Bruce coming out of his slump in a big way with 2 home runs, the Reds still lost. They ended up being swept by the lowly Pirates, and finished their first road trip of the year going 2-5. And yes, the 2 wins were from the first games of the trip.
Next Game
The Reds have today to think about how badly they've been performing. I imagine Dusty Baker will have everyone sitting in various corners of the locker room with dunce caps on their heads. Hopefully, those caps will be laced with the ability to not swing at every pitch, and everyone will be ready to have more patient approaches at the plate when they start a 3-game series at home against the Los Angeles Dodgers on Tuesday. Homer Bailey pitches for the Reds, while the Dodgers send out Chad Billingsley.
Head Hunting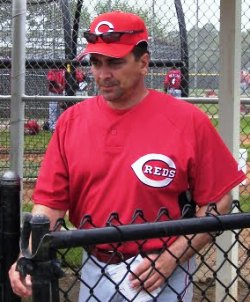 With the recent 5-game losing streak, rumblings are beginning concerning Dusty Baker being fired. Redleg Nation posted about it, and John Fay addressed it in a tweet. I wouldn't get my hopes up yet. The Reds still simply owe him too much money and will want to see as much return on that investment as possible.
Despite my feelings on Baker's poor managerial status, I do have to wonder why Brook Jacoby isn't catching any flack. How long has the guy been with the team? Has anyone–other than Joey Votto, who we all know is intrinsically awesome–improved under Jacoby? Jay Bruce certainly hasn't. This is a team that no longer has Adam Dunn, but somehow is managing to lead the majors in strikeouts. Methinks Jacoby's seat might be smoking soon.
What to Say to Sound Smart at the Water Cooler
The Reds have been slightly better at home at Great American Ball Park than on the road. In the 7 seasons there, they have won 284, lost 289, and tied once. The last time they were at or above the .500 mark was at 219-219-1.