August 21, 2011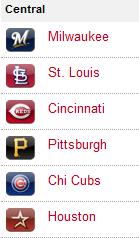 On the one hand, I can't believe it's so late in the season. It felt like it just took forever for baseball to start this year, and now we're down to single-digit weeks of the regular season. On the other hand, I can't believe the minor leagues haven't even wrapped up for the year and we're already thinking elimination numbers.
For Cincinnati, the magic number is 23, which is hardly something to start panicking about now. I mean, if starting today, the Brewers continued winning at their current pace and the Reds won out, the Reds would take the division by two whole games.
The poor Astros, I'm afraid, are a different story. Their magic number is 4. They'll be eliminated before the end of August, which definitely brings a certain futility to the last several weeks of the season. Hopefully they've stockpiled some bobblehead giveaways and other special events for this eventuality.
Which reminds me, next Friday is the Brandon Phillips Fireworks Jam, a "post-game fireworks show featuring a soundtrack of the second baseman's favorite summer hits, starting approximately 15 minutes after the end of the game." So you won't want to miss that (even if you do end up wanting to miss contest against the Nationals that precedes it).