August 16, 2011
| Team | 1 | 2 | 3 | 4 | 5 | 6 | 7 | 8 | 9 | R | H | E |
| --- | --- | --- | --- | --- | --- | --- | --- | --- | --- | --- | --- | --- |
| Bats | 0 | 0 | 2 | 0 | 0 | 0 | 0 | 1 | 0 | 3 | 9 | 0 |
| Indians | 0 | 0 | 1 | 1 | 0 | 0 | 0 | 0 | 0 | 2 | 10 | 0 |
W: Horst (1-4) L: Leroux (6-3) S: Boxberger (3)
As RHM mentioned, we headed to Victory Field to catch as much of the game between the Louisville Bats and Indianapolis Indians as a school-night would allow. Thankfully, we saw a little bit of offense in the hour and 30 we were there.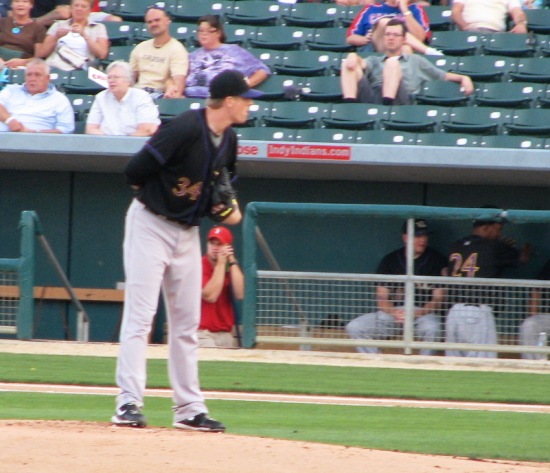 Chad Reineke started for the Bats and had decent results. In 5 innings, he allowed 2 runs and struck out 5. Of course, he also allowed 7 hits, which indicates either goof luck in not allowing more runs or bad luck in the defense behind him. And since most of the Reds' best infield prospects are with the major league club or injured, I'm leaning towards the latter.
The offense was provided by lots of Bats batters, but none was more impressive than power-hitter Juan Francisco.

Francisco had what appeared to be either an accidental swing, or at least a half-hearted one, and sent a ball over the right field berm area. It was a power shot, and it looked like he barely swung. It's the best display of his power I've seen. He's almost always looked over-matched in the majors.
The rosters are set to expand for the Cincinnati Reds at the beginning of next month, but it's hard to see who might be called up. Francisco, sure. But the only other position player who seems likely is catcher Devin Mesoraco. He went 1 for 4 on the night, but that one hit did lead to the eventual run scoring. Considering, he's got a .291 average, a 37% on-base percentage, and is slugging .484, he might not have much left to prove in AAA, anyway.