August 31, 2011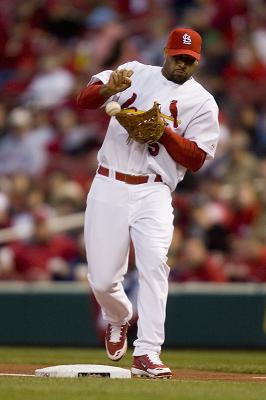 Apparently Albert Pujols fancies himself an insult comedian, or at least a mean big brother, with his antics in Milwaukee yesterday:
It happened with the Brewers hitting in the second. With one out and no runners on base, Yuniesky Betancourt hit a pop foul down the first-base line that drifted toward the stands. Pujols pursued it immediately and tracked the ball about 30 yards before making a difficult-looking over-the-shoulder catch.

Honestly, the play itself would have been noteworthy. But then, when Pujols stopped his momentum, he locked eyes with a gentleman standing along the railing with his arms extended. Pujols approached the fan, stuck out his glove in what appeared to be an invitation to take the ball, and then snatched it away and returned the ball to the infield.
I guess you have to entertain yourself somehow until you become a free agent. There's a video here from MLB. (I'd embed it except MLB sucks)
Can you imagine what would have happened if the tables were turned and Brandon Phillips had done that to a Cardinals fan in St. Louis? Chris Carpenter's head might have exploded.
Not to give BP any ideas or anything. The Reds visit St. Louis this weekend.