December 4, 2011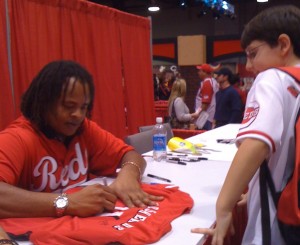 RedsFest was this weekend, and there were lines, autographs, entertainment, lines, some hints of news, and more lines. Redleg Nation has a nice recap of the nuggets that pertain to the future of the team.
Among them, Bronson Arroyo has been working hard to regain velocity, and Yonder Alonso has been working hard to become a better left fielder. And Zach Cozart has reached the point in recovery from Tommy John surgery that he can resume baseball activities.
But one of the most interesting pieces of news came from Cincinnati Enquirer Reds beat writer John Fay in his post of leftovers from RedsFest.
I got the impression that the Reds hold little hope of re-signing Francisco Cordero. The way the closer market has settled, the Reds might be able to get Cordero back at one-year deal in the $7 million range.
Given the Reds' cash-strapped ways, even that price seems pretty steep, especially considering he converted just 86% of his save opportunities. Fay does suggest an in-house solution.
Another possible candidate? Edinson Volquez. He's long shot for the rotation at this point. He's throws 97 and has a great change-up. That could work in the ninth inning.
That's…a really good idea. Volquez has shown over the course of his Reds' tenure that he's not really starting pitcher material. Sure, there was that Cy Young contending first year, but he's never had consistent control since then. So why not try him in the 9th inning? As Fay states, he has the pitches to do it.
I know Volquez was horrible in his first inning of work almost every start in 2011, but I don't think that necessarily means anything. It's something that's worth a shot, and I hope the Reds try it out in Spring Training.