December 17, 2011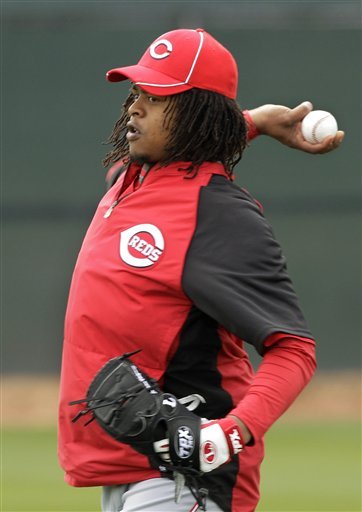 The Reds are reporting that they have completed a five-player trade with the San Diego Padres to send RHP Edinson Volquez, RHP Brad Boxberger, infielder Yonder Alonso, and catcher Yasmani Grandal to the sunshine state in exchange for RHP Mat Latos.
It would have cost the Reds another top-10 prospect to get Mat's other T, so they decided they could do without it.
Even though all the guys were sort of redundant and there's scarcely a major leaguer among them, if you follow the Reds, you know that those four young men we're sending away are a pretty big deal. The one guy we're getting in return had better be pretty special. Here's what the story on Reds.com has to say:
The 24-year-old Latos went 9-14 with a 3.47 ERA and .233 average against in 31 starts this past season in San Diego. In 2010, his first full season in the Majors, he set a modern Major League record by allowing two-runs-or-fewer in 15 straight starts of five-or-more innings pitched, according to the Elias Sports Bureau.
I'll also add that his ground ball to fly ball ratio was 0.76 last year.
Clearly we'll see how it goes as more information emerges and as the season plays out, but for the moment, I'm saying it's more exciting thing to happen in Reds fandom since June. I can hardly wait to see what happens next.