February 24, 2013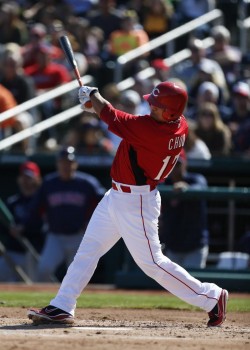 The Spring Training season has started, and Shin-Soo Choo is gaining confidence playing center field for the Cincinnati Reds.
"But everyday I feel better with practice," he said. "There's still work to do. But I feel more confident."
Granted, the former right fielder has only played a little bit, and exhibition baseball is nothing like when the games count, but it's good that Choo has confidence in his ability to make the transition.
As expected, Reds manager Dusty Baker has the same confidence in his player.
"This guy is an athlete," Reds manager Dusty Baker said. "He has a lot of pride. He works hard. He'll be fine. We just have to preserve his legs."
Choo has done well at the plate, too, showing some on-base skills that were completely absent last season from the lead-off spot. If this switch to center field works, this could be a very good season.