February 25, 2013
| Team | 1 | 2 | 3 | 4 | 5 | 6 | 7 | 8 | 9 | R | H | E |
| --- | --- | --- | --- | --- | --- | --- | --- | --- | --- | --- | --- | --- |
| Reds | 0 | 0 | 0 | 0 | 0 | 0 | 0 | 0 | 0 | 0 | 1 | 0 |
| Indians | 0 | 0 | 0 | 0 | 0 | 0 | 3 | 0 | - | 3 | 8 | 0 |
W: Jerry Gil (1-0) L: Josh Ravin (0-1) S: Preston Guilmet (1)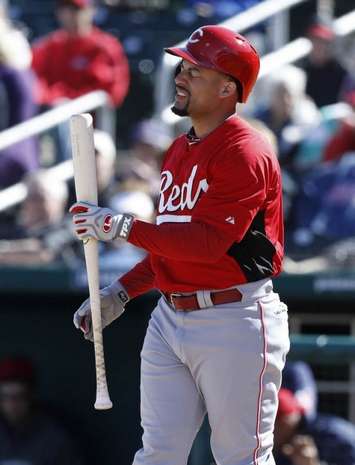 The Reds wrapped up their first spring training series yesterday when they lost to the Indians. In fact, it's been three losses in a row to the Indians to start off this training season, but yesterday's was special in that the other two were slugfests in which the Reds just happened to be behind when the innings ran out. Still, with 20 runs scored in the first 3 games, the Reds aren't looking too bad for offense so far, on average.
Sam LeCure started for the Reds and had a real nice showing in his 2.0 innings of action. He walked a guy, but otherwise didn't allow a baserunner. Next up was Manny Parra, who had similar results in 2.0 innings of work, only minus the base on balls.
Jose Arredondo took over in the fifth and gave up a hit, which was just what Logan Ondrusek did in the sixth. So far so good.
Josh Ravin was the unlucky one in the seventh, and he took credit for all 3 of the Indians' runs before he could log the third out in the inning. Drew Hayes came in to finish off the inning before J.J. Hoover closed her down in the eighth. He gave up 2 walks in the process.
Jason Donald notched the Reds' only hit yesterday when he singled with one on and one out in the top of the sixth. Neftali Soto walked to load them up, but then Xavier Paul and Ryan LaMarre struck out to end the Reds' threat.
Brandon Phillips, Donald, and Soto each contributed a walk to the team's OBP, and, never to be outdone in matters of on-baseness, Joey Votto walked twice. Votto has only 3 official at-bats in the first 3 games of spring training and has gotten on base at a .800 clip.
The loss brings the Reds spring training record to 0-3. Today they take on the Brewers. Armando Galarraga faces off against Tyler Thornburg.