February 27, 2013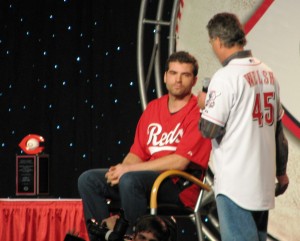 The deadline is approaching, and Joey Votto still hasn't decided about playing for Canada in the World Baseball Classic.
"Not yet," he said. "I'm still trying to get my legs under me."
So far, Votto's performance in Spring Training has been good, indicating his knee is doing better. In four games, he has a home run and four RBI. Oh, and his on-base percentage is an amazing .600.
Apparently, Team Canada is scheduled to play the Reds on March 7th. Assuming Votto does join the roster, he has decided about that game.
"I don't want to play in that game (against the Reds) with Team Canada. I'd be torn."
I empathize with his decision. He gets paid to play for the Reds every year, but the chance to represent his country in a world competition only comes a handful of times. I'd rather he didn't participate, but I do trust him to keep himself healthy should he decide to do so.