March 6, 2013
| Team | 1 | 2 | 3 | 4 | 5 | 6 | 7 | 8 | 9 | R | H | E |
| --- | --- | --- | --- | --- | --- | --- | --- | --- | --- | --- | --- | --- |
| Reds (2-11) | 0 | 1 | 0 | 1 | 0 | 0 | 0 | 1 | 1 | 4 | 10 | 0 |
| Angels (2-8) | 0 | 0 | 0 | 1 | 0 | 0 | 5 | 0 | - | 6 | 12 | 0 |
W: Mills (1-0) L: Ravin (0-3) S: Brasier (1)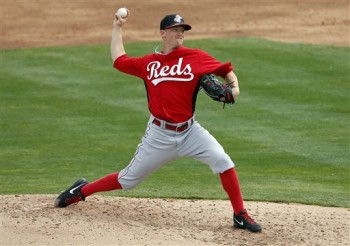 The Cincinnati Reds dropped their seventh game in a row yesterday, losing 6-4 to the Angels. However, just like the points in Who's Line is it Anyway?, the losses don't matter.
What can matter is the results of the players. Since the Reds have pretty much no competition for any of their starting roster spots, the players can actually take the time to focus on practicing and getting ready for the season. It makes for a different kind of spring training as a Reds fan.
So what were the results? Mike Leake started the game and had three strong innings, allowing no runs, four hits, and striking out 2. Aroldis Chapman followed him, and gave up a home run to the first batter he faced. That was the only run he allowed in his two innings of work.
The reason the Reds lost was due to the usage of young prospect Josh Ravin, who allowed five runs in his 1/3 inning of work. Again, another example that the Reds can treat spring training differently than in the 2000s. Here they're letting a prospect pitch against some talent at a higher level than him, ostensibly in the hopes it can spur Ravin to realize how much harder he needs to work to compete in the majors.
As for the offense, the bats finally woke up, thanks to Jay Bruce. He hit two home runs, both solo shots, which had the Reds leading until Ravin's appearance in the 7th. The offense tried to come back, but the two runs in the 8th and 9th just weren't enough.
Today the Reds will play Team Canada. Mat Latos will start for the Reds, while the Canadians send out Mark Hardy. Game time is 9:05pm.