Last Game
The Reds had an off-day yesterday, but the battle for the fifth rotation spot never sleeps, so they played a split squad game with Aroldis Chapman and Mike Leake going head-to-head.
This video appeared on Cincinnati.com, along with a nice little insider-style tidbit.

Next Game
The Reds host the Dodgers tonight at 10:05 p.m. Mat Latos will be starting for the Reds.
Joe Morgan takes the spotlight
There are so many greats in Reds' history that it's hard to even decide who gets the next statue, but the team has done it. Joe Morgan will be immortalized in September, but even before then you can check out his exhibit at the Reds Hall of Fame and Museum. Here's the press release: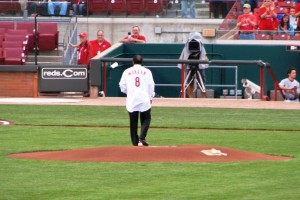 Joe Morgan exhibit opens March 12
Morgan statue to be dedicated Sept. 7

The Cincinnati Reds Hall of Fame & Museum is honoring Joe Morgan with a special exhibit that examines the many highlights of his illustrious career.

Featuring game-used equipment, rare photographs, memorabilia and never-before-seen items from Joe's personal collection, the exhibit shines a light on the player who many historians consider to be the best second baseman in the history of the game.

The exhibit opens to the public on Tuesday, March 12 at 10 am.. Morgan will be available at 6:30 p.m. for the ribbon cutting ceremony and VIP preview of the exhibit.

The Joe Morgan exhibit is part of a season-long celebration of Joe's great career that culminates with the dedication of the Joe Morgan Statue on Saturday, Sept. 7, prior to the 1:05 pm Reds vs. L.A. Dodgers game.

Joe's statue will be located in front of Great American Ball Park on Crosley Terrace and is being sculpted by local artist Tom Tsuchiya, who designed the five sculptures that currently reside at the ballpark: Johnny Bench, Ted Kluszewski, Ernie Lombardi, Joe Nuxhall and Frank Robinson.

Fans interested in being part of recognizing Morgan's incomparable career and immeasurable contribution to Cincinnati and Reds baseball by becoming a donor can learn more by contacting the Reds Hall of Fame & Museum at (513) 765-7921 or redsmuseum.org. Contributions can earn donors a place on the Joe Morgan Recognition Wall inside the museum.
What to Say to Sound Smart at the Water Cooler
The Reds were scheduled to play the Dodgers once already this spring training season but the game was cancelled due to rain.