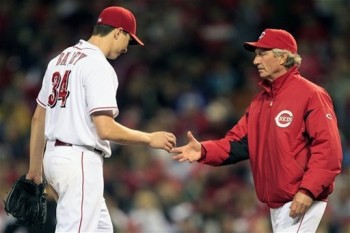 Last Game
The Reds' offense put on a show during their 6-10 win over the White Sox yesterday. Homer Bailey was shaky to start, allowing 5 runs (4 earned) on 9 hits and a walk in 4.1 innings. Of course, three of those runs came from a first inning home run by Adam Dunn, and Bailey's hardly the first guy to be the victim of one of those.
On the other side, Jay Bruce hit his fourth home run of spring training and his second in the last 2 games. Chris Heisey also tacked on a three-run homer in the fourth inning. Brandon Phillips is back in action and went 2-for-3 with an RBI and a couple runs scored.
Next Game
The Reds have the day off. It's the last off-day until the season starts.
Votto: more than just a pretty face
Joey Votto sat down with Buster Olney to record this video for ESPN the Magazine. I like that Votto has put his own thought in to at-bats and how he ought to approach them. It's necessary to accept outside feedback, but a guy has to think for himself, too.

(HT Cincinnati Enquirer blog)
What to Say to Sound Smart at the Water Cooler
The World Baseball Classic is over for another four years. The Dominican Republic was victorious over Puerto Rico, winning 0-3 last night in San Francisco. Yankees second baseman, Robinson Cano, was named the Most Valuable Player of the tournament.