March 8, 2013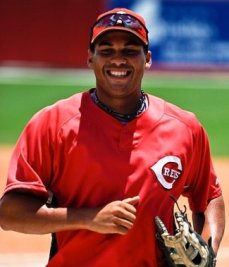 During last year's spring training, I remember hearing about a prospect in the Cincinnati Reds' system who grew up in Germany and didn't play baseball until he was 16. He was raw, but he's still in the system and has improved.
Reds manager Dusty Baker has raved about Donald Lutz this spring. Lutz, or "Big Lutz," as Baker calls him, has a lot of pop in his bat.

How much pop?

"He hit a ball as hard the other day … it reminded me of Willie Stargell and those guys. When I was a kid and I was playing center field, I was nervous. (I thought) Willie Stargell and Willie McCovey might hit a ball that I'd misjudge and it would hit me in the chest and go through me."
Lutz, unlike his 30 Rock namesake, is tall and muscular, standing at 6 feet, 3 inches and weighing 250 pounds. So far this Spring, he's got a .353 average, an on base percentage of .389, and a slugging percentage of .588. This is all in sizes so small it's hardly a sample, but he does also have a home run and 5 RBI.
He could be a special player in the next year or two. This year, though, he's likely to start in Pensacola on the AA team. There he'll continue to work on the move from first base to the outfield. Because even though he's 2 or 3 years away from the majors, the Reds have a first baseman for quite some time who isn't moving for anyone.