October 1, 2005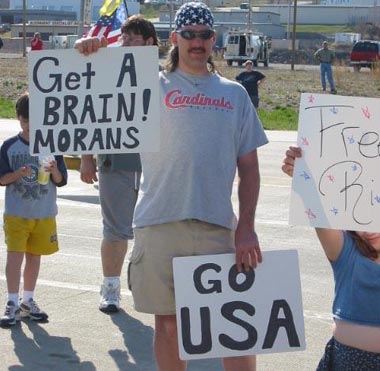 Image via JD
I woke up this morning and thought to myself, "Self, if there's one thing I haven't done enough of this season, it's cruelly make fun of the hair, clothes, and spelling ability of Cardinals' fans." How fortuitous that I should then come across this particular photo on Red Reporter.
Possible headlines that come immediately to mind:
St. Louis Eighth Grader to Compete in National Spelling Bee
Brian Morans Makes Embarrassing Spelling Mistake
Missouri Suffers Shortage of 'Mustache Rides 10¢' T-Shirts
I feel bad about myself. He's probably a real nice, hard-working guy. But the smack must be talked!