October 5, 2005
Finding My Way by Raquel Aurilia
Shea Records
http://www.raquelaurilia.com/
When I reviewed the single of The Need that I picked up at Great American Ball Park in exchange for a donation to the Red Cross, I promised a review of the full album "in the coming weeks."
It's been four weeks. The leaves are turning on the trees and the geese are heading south. The Reds' season has been over for, let's face it, a long time, and it's a very real possibility that in a matter of days, the Reds-connection to this album could be severed.
At least I didn't promise it "in the coming days."
In my defense, though, the reason for the delay was because I had so much in-depth research to do. Research that included such important tasks as:
Identifying the singers in the pretend band Trip Cyclone. (This turned out to be a dead end, but I do recommend playing Harvest of Souls if you're into that kind of thing.)
Renting the movie Sweet November and fast-forwarding/rewinding through it three times in the desperate pursuit of a scene featuring a "cute cashier."
Trying to write intelligent and clever interview questions for Ms. Aurilia, who graciously agreed to answer them even as she packed up all her stuff to move.
You'll see how all that worked out when I post the entire interview in the coming days. Or, when I post it again at the beginning of next season. Hopefully there will still be a Reds connection then. Hey, shut up: I hope there will be.
In the meantime, I'd best get down to the long-awaited review.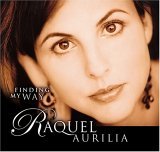 Finding My Way is a very clean, well-produced album that offers a lot to like in almost its every aspect. Raquel's voice is interesting and unusual, but in a good way, as is her sense of rhythm and phrasing. Her vocal versatility is even more impressive than the photos from her CD launch party, and that's saying something, since Paula Benard of General Hopsital fame appears in one of them.
Raquel describes Finding My Way as having "different styles of music with each song," including R&B, rock, pop, and A/C. Indeed, this album does contain a striking amount of variety. Each time you listen to it, you're likely to notice some different surprising harmony or understand some new interpretation of the lyrics. It's a professional, sophisticated piece of work.
The tracks on Finding My Way include two remakes that you'll certainly recognize: the activist rally hymn "For What It's Worth" made famous by Buffalo Springfield, and the family classic "Dream Weaver" made famous by, as I recall, Wayne's World. While the remakes are probably my least favorite tracks, Raquel was intelligent to select such likeable songs to cover. Party on.
The other tracks on the album are originals selected for their "feel" and "great lyrics." Though Raquel did not write the tracks on Finding My Way, she worked together with her producer, Tony Papa (you may recognize his name in association with Survivor, James Brown, and, most importantly, "Weird Al" Yankovic) to select songs that she admired and related to.
Personally, I thought the song selection was excellent. My favorite track, "Where Was I," tells the story of lost love. But instead of indulging in self-pity, this story's narrator regrets that her own neglect was the cause of the break-up. That's pretty unusual to begin with, but to have that story told by a woman well, I just can't think of another time that I've heard a woman sing that tune. Though, admittedly, that was not part of my in-depth research.
Raquel says that her future albums may contain songs she writes herself. I think they could be pretty good, assuming that a woman as beautiful and talented as Raquel has had enough suffering in her lifetime from which to draw her art. She did tell me that she had a failed high school romance once, so we have that to look forward to.
The songs on Finding My Way touch on a variety of topics, some of them kinda dark. Treacherous friends, cheating lovers, and addictive personalities all make an appearance, but the bummer themes are set off with an over-arching message that things will get better. Certainly a message of relevance to Reds fans everywhere.
So, if you could use a ray of hope in your dreary existence, Finding My Way might just be what you're looking for. Check it out on Amazon.com, CDBaby.com, and Target.com. Or, if you're going to be in Arizona anyway, why not check out the real deal in person? Raquel will be performing in the coming months at a bar called "The Mint" on October 14, and opening for B.B. King at the Dodge Theatre on December 29.