November 15, 2005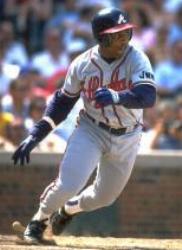 New York, NY -- Major League Baseball is taking flak for waiting until today to announce Terry Pendleton as the winner of the National League Most Valuable Player Award for 1991.
Some fans seem to think that the long-delayed announcement lacks relevance in the face of the football and young basketball seasons.
"Yeah, Terry Pendleton," said Peter Griffin, a sports fan who heard the announcement on television at a local Hooters. "He plays for the Colts, right? That team is freakin' sweet."
Some baseball fans, especially younger ones, complain that they've never heard of Terry Pendleton.
"I was 5 in 1991," explained Turk Turkleton. "Unless you're going to tell me that Bullwinkle won, I'm not going to know who the heck you're talking about."
By far, the most common complaint was the long time delay for the announcement.
"You expect me to remember what some guy did in 1991?" asked Dwight Shrut, a salesman. "I can barely remember what the 2005 MVPs did."