May 20, 2008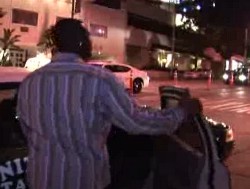 TMZ has posted a fan/stalker-wannabe video of Ken Griffey Jr. walking from a restaurant to a taxi.
That's blogs for you, bringing you video that the mainstream media can't, nay, won't. I commend them for it. Griffey leads a Salinger-esque private life, and obtaining any moving pictures of him walking over the past 20 years has been very difficult.
And bleeping out innocuous crowd noises? Priceless.